The Zoznam company (a subsidiary of the Slovak Telekom) started in spring 2007 a new universal phone directory. Since September 2007 it includes the phone numbers of all telephone operators (also cellular). The search form is available only in Slovak.

This new form is more "genealogy friendly", as it allows again search for all territory of Slovakia. The names can be entered both with accents and without accents (using the field Vyhľadaj). The use of wild chart characters is not possible (at least I did not find out how to use them)





The same form using Google instant translation is:





The translation of the expressions used in the form is:


| | |
| --- | --- |
| Vyhľadaj | Insert the search expression |
| Typ | Type |
| Všetky čísla | All numbers |
| Súkromné čísla | Residential numbers |
| Firemné čísla | Company numbers |
| Hľadaj | Search |
| Mesto | Town |
| Ulica | Street |
| PSČ | ZIP number |
| UTO | Phone area |
| Pevné linky | Land lines |
| Mobilné siete | Cellular phones |
| Siete alternatívnych operátorov | Alternative phone operator networks |
| SMEROVÉ TELEFÓNNE ČÍSLA | Phone area codes |
| MEDZINÁRODNÉ SMEROVÉ TELEFÓNNE ČÍSLA | International country codes |

As result of the query you will have a list of names and addresses. To acquire the phone number and address you must click on selected name and you will receive a result as the following example:

Mrkvičková Anna

(Surname and first name

, the female surnames ends usual with -ova or -a. For female surnames

see also the FAQ

.)




Adresa

(Address)



Tel. číslo

(Phone number)



Nezabudkova 13, Zvolen

045 / 51350571
Street, house #, Town
In small villages the streets are not named, thus in that case only the name of the village will appear
Area code/phone number. For international calls the first 0 is to be replaced by +421, thus this phone would be +421 45 51350571

Below the search result there usually appears also a map.

How to recover the surface mail address?

The address from the search result is missing the ZIP code. The above mentioned example implies the following surface mail address:

Anna Mrkvickova
Nezabudkova 13
960 01 Zvolen
Slovak Republic

The ZIP code can be found using the online tool of the Slovak Post. CentroConsult presents here also a short guide.

Map of Slovak phone Area Codes enabling better usage of the Slovak white pages

Below is a map showing all new Slovak phone districts with Area Codes. The areas are not identical with present administrative regions of Slovakia! Click on the map to see it in detail and to have access to more sophisticated clickable map. See also the table of all area codes sorted according the administrative regions.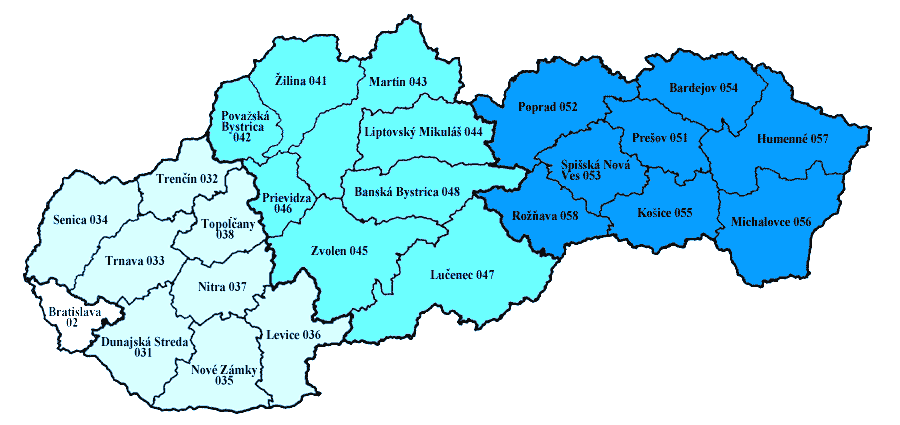 ---
Table of old and new Slovak phone Area Codes enabling better usage of the Slovak white pages
Below is a comparative table showing all old Slovak phone districts with Area Codes (they start always with 0) with new area codes sorted according the regions, then by districts

| | | | | |
| --- | --- | --- | --- | --- |
| Old Code | New Code | Location | District (Okres) | Region (Kraj) |
| 088 | 048 | Banska Bystrica | Banska Bystrica | Banska Bystrica |
| 0859 | 045 | Banska Stiavnica | Banska Stiavnica | Banska Bystrica |
| 0867 | 048 | Brezno | Brezno | Banska Bystrica |
| 0856 | 045 | Krupina | Krupina | Banska Bystrica |
| 0863 | 047 | Lucenec | Lucenec | Banska Bystrica |
| 0864 | 047 | Poltar | Poltar | Banska Bystrica |
| 0868 | 047 | Tornala | Revuca | Banska Bystrica |
| 0941 | 058 | Revúca | Revuca | Banska Bystrica |
| 0865 | 047 | Hnusta | Rimavska Sobota | Banska Bystrica |
| 0866 | 047 | Rimavska Sobota | Rimavska Sobota | Banska Bystrica |
| 0854 | 047 | Velky Krtis | Velky Krtis | Banska Bystrica |
| 0858 | 045 | Zarnovica | Zarnovica | Banska Bystrica |
| 0857 | 045 | Ziar nad Hronom | Ziar nad Hronom | Banska Bystrica |
| 0855 | 045 | Zvolen | Zvolen | Banska Bystrica |
| 07 | 02 | Bratislava | Bratislava | Bratislava |
| 0703 | 034 | Malacky | Malacky | Bratislava |
| 0704 | 033 | Pezinok | Pezinok | Bratislava |
| 0944 | 053 | Gelnica | Gelnica | Kosice |
| 0943 | 055 | Moldava nad Boldvou | Kosice surroundings | Kosice |
| 095 | 055 | Kosice | Kosice | Kosice |
| 0946 | 056 | Michalovce | Michalovce | Kosice |
| 0942 | 058 | Roznava | Roznava | Kosice |
| 0947 | 056 | Sobrance | Sobrance | Kosice |
| 0965 | 053 | Spiska Nova Ves | Spiska Nova Ves | Kosice |
| 0948 | 056 | Trebisov | Trebisov | Kosice |
| 0949 | 056 | Kralovsky Chlmec | Trebisov | Kosice |
| 0818 | 035 | Hurbanovo | Komarno | Nitra |
| 0819 | 035 | Komarno | Komarno | Nitra |
| 0811 | 036 | Zeliezovce | Levice | Nitra |
| 0812 | 036 | Sahy | Levice | Nitra |
| 0813 | 036 | Levice | Levice | Nitra |
| 087 | 037 | Nitra | Nitra | Nitra |
| 0810 | 036 | Sturovo | Nove Zamky | Nitra |
| 0816 | 035 | Surany | Nove Zamky | Nitra |
| 0817 | 035 | Nove Zamky | Nove Zamky | Nitra |
| 0706 | 031 | Sala | Sala | Nitra |
| 0815 | 038 | Topolcany | Topolcany | Nitra |
| 0814 | 037 | Zlate Moravce | Zlate Moravce | Nitra |
| 0935 | 054 | Bardejov | Bardejov | Presov |
| 0933 | 057 | Humenne | Humenne | Presov |
| 0964 | 052 | Spiska Stara Ves | Kezmarok | Presov |
| 0968 | 052 | Kezmarok | Kezmarok | Presov |
| 0966 | 053 | Levoca | Levoca | Presov |
| 0939 | 057 | Medzilaborce | Medzilaborce | Presov |
| 092 | 052 | Poprad | Poprad | Presov |
| 0969 | 052 | Stary Smokovec | Poprad | Presov |
| 091 | 051 | Presov | Presov | Presov |
| 0934 | 051 | Sabinov | Sabinov | Presov |
| 0932 | 057 | Snina | Snina | Presov |
| 0963 | 052 | Stara Lubovna | Stara Lubovna | Presov |
| 0938 | 054 | Stropkov | Stropkov | Presov |
| 0936 | 054 | Giraltovce | Svidnik | Presov |
| 0937 | 054 | Svidnik | Svidnik | Presov |
| 0931 | 057 | Vranov nad Toplou | Vranov nad Toplou | Presov |
| 0832 | 038 | Banovce nad Bebravou | Banovce nad Bebravou | Trencin |
| 0827 | 042 | Dubnica nad Vahom | Ilava | Trencin |
| 0834 | 032 | Nove Mesto nad Vahom | Nove Mesto nad Vahom | Trencin |
| 0822 | 042 | Povazska Bystrica | Povazska Bystrica | Trencin |
| 0862 | 046 | Prievidza | Prievidza | Trencin |
| 0825 | 042 | Puchov | Puchov | Trencin |
| 0831 | 032 | Trencin | Trencin | Trencin |
| 0708 | 031 | Samorin | Dunajska Streda | Trnava |
| 0709 | 031 | Dunajska Streda | Dunajska Streda | Trnava |
| 0707 | 031 | Galanta | Galanta | Trnava |
| 0804 | 033 | Hlohovec | Hlohovec | Trnava |
| 0838 | 033 | Piestany | Piestany | Trnava |
| 0802 | 034 | Senica | Senica | Trnava |
| 0801 | 034 | Holic | Skalica | Trnava |
| 0805 | 033 | Trnava | Trnava | Trnava |
| 0821 | 041 | Bytca | Bytca | Zilina |
| 0824 | 041 | Cadca | Cadca | Zilina |
| 0845 | 043 | Dolny Kubin | Dolny Kubin | Zilina |
| 0826 | 041 | Kysucke Nove Mesto | Kysucke Nove Mesto | Zilina |
| 0844 | 044 | Liptovsky Hradok | Liptovsky Mikulas | Zilina |
| 0849 | 044 | Liptovsky Mikulas | Liptovsky Mikulas | Zilina |
| 0842 | 043 | Martin | Martin | Zilina |
| 0846 | 043 | Námestovo | Námestovo | Zilina |
| 0848 | 044 | Ruzomberok | Ruzomberok | Zilina |
| 0841 | 043 | Turcianske Teplice | Turcianske Teplice | Zilina |
| 0847 | 043 | Tvrdosin | Tvrdosin | Zilina |
| 0823 | 041 | Rajec | Zilina | Zilina |
| 089 | 041 | Zilina | Zilina | Zilina |


This help page is sponsored by CentroConsult
CentroConsult offers individualized genealogy research services in Slovakia and former Austria-Hungary